products / shearline INDUSTRIAL XL
The Latest In Industrial Marijuana Trimming Technology.
The Shearline™ Industrial systems are now available for clients with high-volume processing needs. Please contact us for pricing quotes, further details about equipment, technical support, or with any other questions or concerns you may have.
Food Grade Construction

Easy To Clean

Eliminate waste
Easy To use

durable Design

Industrial Capacity
If your production facility is operating at a large and consistent flow rate, fully automating the processing system is critical. This system has a massive, 18-inch wide drum spanning 6 feet in length, rotating over top of four 11-blade cutting reels. A system controlled entirely using PLC allows the user to configure this system to their specific needs.
Quality Control
The automated tilt of the entire bud trimming machine, as well as precise control of the suction of the two massive all-stainless-steel separators, work together to achieve the perfect final product. A large-capacity hopper feeding the drum, can be tuned to provide the optimal feed rates timed to the needs of the strain being trimmed
Easy To Use
Equipment requires minimal training and experience to get up and running.
Food Grade Construction
The Shearline™ XL weed trimmer is designed to meet or exceed the most stringent food grade requirements in the U.S. and Canada. Strict USDA standards are adhered to from design to production.
Programmable Controls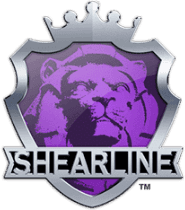 Please fill out this form to contact us, and we will get back to you as soon as we can.
North America
1-855-980-0121
V

Touch screen controls make operating the Shearline™ XL simple and intuitive

V

Create custom programs based on the needs of your strains

V

Take precise control of cutting, feeding, and suction

V

The clean-in-place system can be programmed to clean and dry the system periodically to maintain an efficient-running bud trimmer machine

V

All resin-laden water is collected and stored in a stainless-steel drum for reclamation
Shearline™ holds its customer service to the highest standards and you are welcome to contact our help line at any time. We are here to provide assistance with any and all of your questions and concerns. Instructional videos and PDF manuals are available for your reference!